Mold Remediation for Basements, Crawl Spaces & Attics in Parkville, Bel Air, Towson Areas
Treating and preventing mold in your home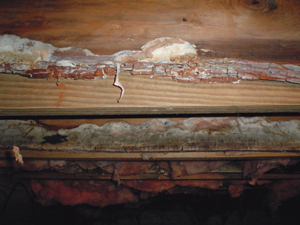 Do you have crawl space mold? The air in your crawl space circulates through your home, so if there's mold in your crawl space, you are likely breathing unhealthy air.
Musty odors are typically the first sign of a moisture problem in the basement or crawl space. Surprisingly, the attic is one of the most common places for mold to develop, but it is also one of the most likely places for the mold growth to go unnoticed.
No matter the mold issue is in your home, if you suffer from allergies or asthma, mold can make your symptoms worse.
If there is a musty smell or visible signs of mold in your attic, basement or crawl space, Dr. Energy Saver by Green Machine can treat the mold and provide solutions to prevent mold from coming back. We offer free on-site estimates for mold remediation in Greater Baltimore and surrounding areas in Maryland - call us or click below to schedule yours today!
Why fix your mold problem?
Any home can quickly develop a mold problem with the introduction of a water from a roof leak, plumbing leak or flooding. Mold can spread throughout your home in as little as 48-72 hours, and can produce allergens and irritants that have the potential to cause other health effects.
Because air and mold spores from the basement, crawl space or attic can escape into the living spaces of the home, mold can contribute to health problems like respiratory illnesses and worsen allergy and asthma symptoms. The only way to keep mold issues in your home under control is to keep moisture levels low and prevent water intrusion.
Our mold treatment process
Apply anti-microbial: Our technicians apply Mold-X, our proprietary anti-microbial that kills mold on contact. Mold-X is applied using a fogger, much like the equipment used in pest control. The product will kill and neutralize the mold, stopping it from releasing spores.
Seal air leaks and insulate: Once the mold is killed, additional steps must be taken to control moisture in the crawl space, basement or attic to prevent new mold growth. Insulation, proper air sealing and crawl space encapsulation are recommended to help prevent future mold problems.
Install a dehumidifier: We complete our mold treatment process by installing an energy-efficient dehumidifier that controls indoor humidity and helps prevent the reoccurrence of mold. Our patented SaniDry dehumidifiers are ENERGY STAR rated for efficient operation and are low maintenance.
The right solution starts with a free estimate
Insulation's ability to help manage temperature and moisture makes it a powerful solution for preventing mold growth in the home. As your expert insulation contractor, Dr. Energy Saver by Green Machine offers the best insulation materials and professional installation for any application. Our insulation solutions can help keep mold from coming back while making your home more comfortable and energy efficient.
Contact us today to request your in-home consultation and free estimate in Nottingham, Middle River, Lutherville Timonium, Abingdon, Cockeysville, Edgewood, Aberdeen or nearby.
Looking for a price? Get a no cost, no obligation free estimate.